An Original Muller Frères Antique Glass Ceiling Light Pendant.
I have recently been very lucky to get my hands on a very early 20th Century French ceiling light. This light is quite a rare find in the UK being made by Muller Frères who were French glassmakers located in Lunéville in the northeast of France. Muller Freres were renowned for producing art nouveau art glass products such as vases and lampshades. The Muller family business was highly regarded with some members of the family working closely with world-famous glassmaker Émile Gallé. The glass lampshade was found with all of its original fittings. The light is in poor condition and appears to have been stored in a moist atmosphere for some time, the metal fittings had surface corrosion and the glass was dirty, it was quite obvious that this lovely old light had not been used in many decades. This is a small to medium-sized lighting pendant that may have been mounted on a landing or smaller room. This is a real piece of lighting history from a Quality French maker and has over 100 years of marks and signs of life. I am going to clean and refurbish this lovely old antique art nouveau pendant and bring it back to use using components and wiring that meet modern standards, it is not a difficult project but one that takes a little care and time and creates some dirt and grime. This wonderful old piece of lighting is in two parts. The large acorn-shaped lampshade is made from heavy frosted moulded glass, it is a very heavy shade being deeply moulded and highly detailed.  The shade is covered on the outside with a variety of moulded decorations that are an interesting mixture of Art Deco and Art Nouveau detailing. At the top of the shade sits a large thick and heavy gallery rim. The original gallery found with the lampshade is a  beauty and very much of the Art Nouveau era, it is made from wrought Iron with detailed Acanthus leaf motifs that are very well made by a craftsman blacksmith. The gallery has three original screws that locate gently onto the glass shade and hold it firmly in place during use. The light also has its original length of hanging chain and a hooped ceiling rose with a design that reflects the pattern of the gallery. Still fitted to the light are the original brass lamp holder and 2 core wiring.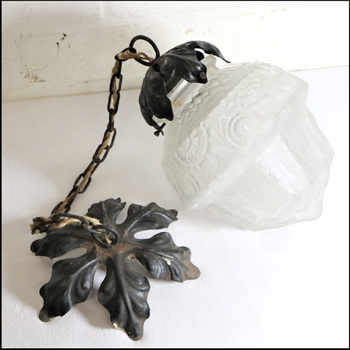 Here is the Antique Art Nouveau pendant as found.
---
The Metalwork.
The first thing this Antique light needed was a good clean. The light was taken apart, the old wiring and electrical components were discarded and the metal fittings were stripped and made ready for cleaning. The wrought iron gallery and ceiling rose have a black painted finish that is original to the manufacture of the light. Despite the patchy look of the metal components, it was clear that with a clean and polish they could be made to look much better, with the amount of corrosion there is no way the fittings could be made to look perfect but I wanted to keep as much of the original finish as possible.
The metal components could be stripped back and refinished but I believe that would take away from the history of the ceiling light. The gallery screws were given a spray of oil and the threads cleaned, the gallery and rose were gently rubbed down with medium and fine wire wool which removed any loose paint and loose surface corrosion, after 30 minutes with wire wool the metal parts already looked much more appealing.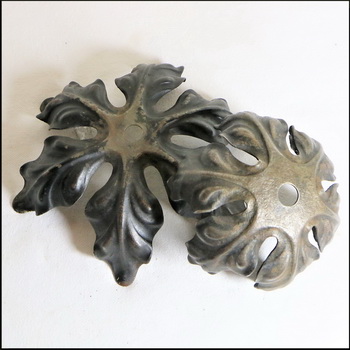 The gallery and ceiling rose restoration was completed with a good brushing and a polish using wire brushes and was sealed using 2 coats of Hotspot Stove and Grate polish, this waxy water-based polish is ideal for such metalwork as it helps blend corroded surfaces and painted surface. The final finish and polish was a coat of Micro Crystalline wax which brings out the texture and protects the metal further.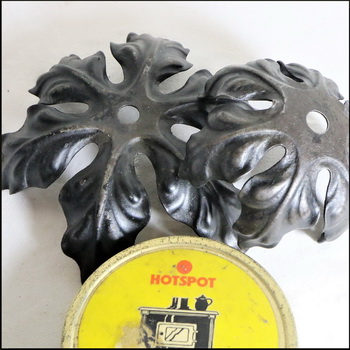 ---
Rewiring & cable protection.
This Antique Art Nouveau pendant light was found fitted with a short length of two core wiring and a very old unearthed brass lamp holder once these were removed the thread revealed was 10mm but had an old redundant French thread fitting meaning that it would not be simply married with a modern light fitting thread adapter.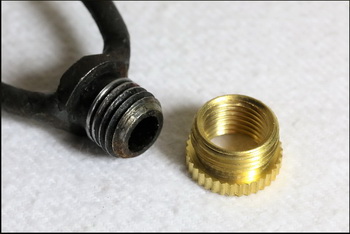 The only way of fitting the new lamp holder was to carefully and slowly reduce the thread diameter and make it suitable for accepting a new lighting thread, this has to be done very slowly with lots of checking as you go. I managed to get the thread down in size where it would accept the new lighting thread adapter, the adapter was screwed in place and was fixed with epoxy cement for extra security.
Rewiring was carried out using current UK standard components. I used an earthed brass bulb holder with a UK BC fitting. Wiring is three core, in the UK we use Green and Yellow for earthing (grounding) – Blue is neutral and Brown is live. When you rewire a Vintage light fitting you should always take care to provide the cable with protection at entry points, when this light was made the standards were different and wiring protection was not often considered. This light has quite small but very smooth wiring tubes at the rose and gallery which was great news but remember you should always check your project before you rewire any piece of Antique lighting.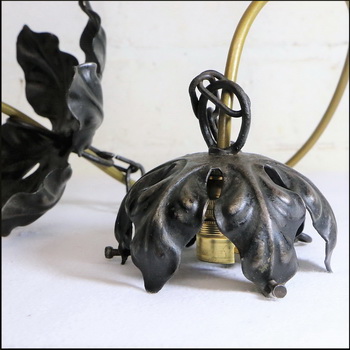 ---
The Lampshade.
The shade was very dirty with a few spots of paint but was found to be free of any serious damage. The shade has small minor nibbles to the gallery rim and rust stains to the gallery rim from years in a moist environment.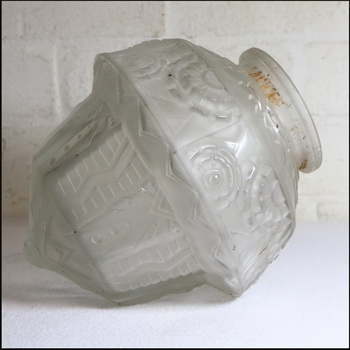 The shade was cleaned in hot soapy water and given a wipe over with modern glass cleaner. The rust stains on the gallery rim were removed using a fine metal polishing paste. After cleaning the shade came to life, considering its great age the glass lampshade was found to be in good condition. On close inspection the patterns on the shade were found to be an interesting mix of both Art Nouveau and Art Nouveau, the heavy glass shade has a frosted finish with small by deliberate areas of clear glass that provide highlights in use.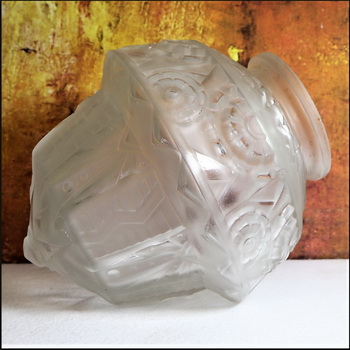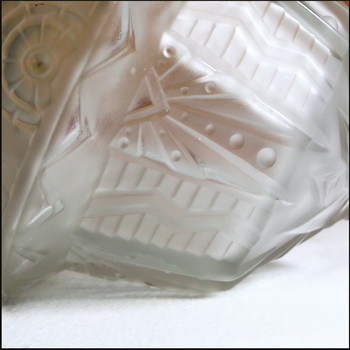 ---
Reassembly & Testing
The light was assembled and made ready for testing. Once hanging the Antique Art Nouveau and Art Deco style of this French light started to shine, the shape of the glass lampshade and the ornate iron gallery work together to emphasise the skill of the people who designed this light. In use, the heavy moulded lampshade provides a wonderful eye-catching lighting effect that is gentle and soft with the moulded detailing appearing deep with reflective details and shadowing from the silhouette of the wrought iron gallery and fittings.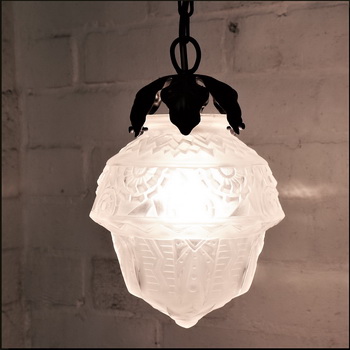 ---
Conclusion.
Antique Art Nouveau lighting like this is well worth hunting down, this is a rare Antique light from a manufacturer rarely found here in the UK, I found this in need of restoration and it made a pleasing and fairly simple project, however, if you don't fancy having a go at restoring a piece of Antique lighting there are many specialists online lighting retailers who will often have similar items.
One of the best online resources for vintage and Antique & Vintage lighting is Vinterior – You can view the interesting and varied Vinterior website HERE.
An Antique ceiling light like this will add an authentic period look to any space. With lights like these becoming rarer with each passing year buying one is an investment in a piece of History and indeed will help with the drive for a greener world. A large part of the project was the thorough cleaning and polishing of the metal fittings. The result is pleasing and seeing this Antique French ceiling light back in use is pleasing.
Materials
Earthed Wiring. Earthed Brass bulb holder. Hot Spot Grate polish. Wax polish. Wire wool, oil and sundries for cleaning.
Time Spent on the lamp – 2 Hours.
I often have several Antique Lighting items for sale in my eBay shop here – Hertfordshire Lighting and Design
I would love to hear from anyone who has performed a similar restoration project; it's always great to share ideas with other people.
If you have any questions or need advice on any item of Vintage or Antique lighting please contact me and I will do my best to help.
Michael Adkins. michael@hertfordshire-lighting.com