Wrought Iron Lighting and Wrought Iron Gothic Lighting.
Wrought Iron Chandelier Lighting – Wrought Iron Pendant Lighting – these Wrought Iron Light Fixtures have a design history going back to the Medieval period. Made by local Blacksmiths the lighting from this period could be found in castles, churches and large homes owned by wealthy landowners. The lights were large and were designed to hold an array of large candles, the large wrought iron chandeliers of this time would have been attached to a chain and pulley system to allow "easy" replacement of the candles. The lights from this period were made in a particular style with minor differences between craftsmen – Hand made with black or dark finishes, what we would today call Gothic lighting.
These often simple pieces of utility lighting have stood the test of time. Wrought iron and Gothic style lighting has always held interest in modern times and over the last 20 years has had resurgence in interest. This may be partly due to the popularity of Antique & period buildings being converted into modern dwellings, buildings such as old barns, farms, mills and factories. These older types of properties often have high ceilings and provide a great space for the older style wrought iron lighting to be fitted and to shine.
There are now many quality ranges of Wrought Iron Chandelier lighting & Wrought iron Pendant Lighting on the market. Many are really very large and ideal for big spacious areas, however the quality makers of these lights also produce smaller versions allowing these fabulous fittings to be considered in smaller modern properties.
Construction
All the Quality manufacturers of wrought iron lighting use heavy gauge steel and iron in the manufacture of their products. Using quality material allows proper welding, hammering and forming to be employed in the construction of the lights. A quality version will be bomb proof strong and will withstand knocks and bumps – The only downside to this is the weight of the finished lights, if you are considering a wrought iron chandelier or a wrought iron pendant make sure you check the weight and that your ceiling has a stable fixing point to anchor your new light to.
Below is an image of a second hand but top quality wrought iron chandelier by Smithbrook from England.

This Smithbrook chandelier has a number of typical elements of wrought iron lighting all of which have roots in the medieval candle lighting that we touched on at the start of this article. This particular light is made from very heavy iron, it has simple scroll work, signs of hammering and welding. The three bulb holders are held in faux wax catchers with "candle" covers. Suspension is by large heavy chains. The finish is "blacked". All of these design elements hark back to the original Gothic candle lighting made by blacksmiths hundreds of years ago.
Here we see the same Smithbrook Chandelier lit and in use with candle flame shaped bulbs, when lit the chandelier's profile and construction really comes to life and produces an excellent lighting effect in both illumination and shadowing.
Finish.
Some of today's best Wrought Iron Lighting comes in a choice of finishes. Traditional Blacked finishes are wide spread with a few manufacturers offering choices on colours such as rust aged – Matt Black – Black with highlights and in some cases ivory. Being made from wrought iron these lights often have small marks from finishing and manufacture so bear in mind the material that this type of lighting is made from and expect not every part of your new light to be super smooth. In my opinion these small marks in the finish and materials adds appeal to wrought iron lighting as each one may be very slightly unique.
Let's have a look at some of the best Wrought Iron Chandeliers available.
Smaller 3 lamp versions.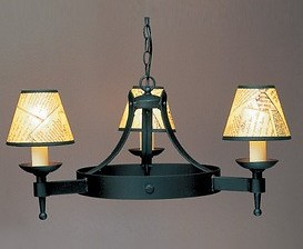 This is a Smithbrook Saxon chandelier shown with optional clip on lampshades.
Ideal for a smaller space and of the very best quality – Diameter is 61 Cm – full details can be seen HERE
This is another top quality Smithbrook light – The Mitre again shown with optional lampshades.
Diameter is 56 Cm – full details can be seen HERE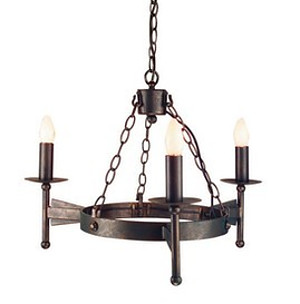 The Elstead Cromwell 3 lamp ceiling light with a great Gothic Design
Black with distressed Gold highlights.60 Cm Diameter.
A fantastic modern ceiling light of good quality and at a great price Full details can be seen HERE
The Elstead Belfry 3 lamp ceiling light with caged detailing and steel motifs.
Another quality light from Elstead – Diameter is 48 Cm – Full details can be seen HERE

The Elstead Rectory 3 lamp ceiling light with traditional Scrollwork detailing.
51.5 Cm Wide – Full details can be seen HERE
Mid-sized 5 and 6 lamp Lights
The size now starts to move up a notch, with the extra 2 or 3 lamps these mid-size lights are suitable for larger areas and really begin to make an Impact as a focal point for any large space.
There are some beautiful lights on the market in the 5 & 6 lamp categories – Here are my favourites.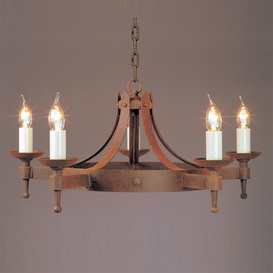 A Smithbrook 5 Arm Saxon chandelier with an optional Aged Rust finish.
Top quality – 67 Cm Diameter – Full Details can be seen HERE
Another quality piece of handmade lighting from Smithbrook – The Refectory with 5 Lamps and 5 Candle sconces.
78 Cm Diameter – Details can be seen HERE
A Bleinham 5 Arm by Smithbrook – An elegant marriage of traditional skills and clean design.
48 Cm diameter – Full details and finish options can be seen HERE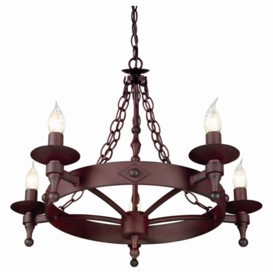 An Elstead Warwick 5 Arm ceiling light – Beautifully made and finished in Rust
Diameter is 60 Cm – Full details can be seen HERE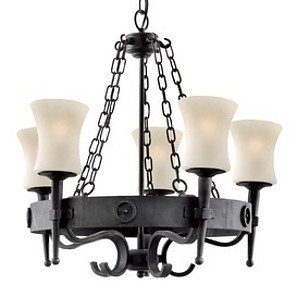 A really well-made Searchlight Cartwheel Wrought Iron Pendant – Finished in Black with 5 glass diffusers.
Diameter is 57 Cm – Full details can be seen HERE
Large 7 lamps plus and extra-large Chandeliers.
When get into the larger sized Wrought Iron Chandeliers you will find some outstanding pieces of lighting. The sheer size and volume of some of the lights make them suitable for extra-large spaces.
There are some stunning lights available and many highlight the modern equivalent of the medieval craftsmanship that was described at the beginning of this article.
A Smithbrook Saxon 8 Lamp Wrought Iron Chandelier.
91 Cm Diameter – Shown in a Stirling Frame finish – Full details can be seen HERE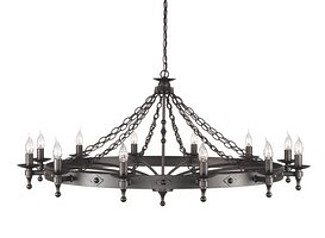 An Elstead Warwick 12 Arm Wrought Iron Chandelier.
122 Cm in Diameter – Large, impressive and beautifully made – Full details can be seen HERE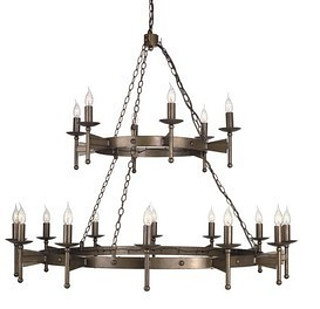 This is a really large 18 lamp Wrought Iron Chandelier – The Elstead 18 Lamp Cromwell
130 Cm Diameter with the lights set on two levels – A centre piece for a large space such as a Barn Conversion.
Full details can be seen HERE
Wrought Iron Pendant Lighting.
There are some great Wrought Iron pendants on the market which are a mixture of traditional materials and workmanship combined with modern materials and designs. Here are some examples.
This is the Feiss Alston 3 lamp Pendant – A traditional design with a modern touch
31 Cm in diameter- Really well-made – Full details can be seen HERE
The Kyle 3 Lamp Wrought Iron Pendant by Quoizel with Butterscotch Onyx glass diffusers
44 Cm wide – Full details can be seen HERE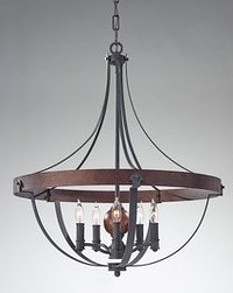 This is the Feiss Alston 5 lamp Pendant – A traditional design – Beautifully made.
61 Cm Diameter – For full details see HERE
The Kyle 5 Lamp Wrought Iron Pendant by Quoizel with Butterscotch Onyx glass diffusers
A great modern design made with traditional manufacturing methods. Great for an Island setting. For full details see HERE
I hope this overview of Wrought Iron lighting has been useful. There are a whole host of good quality wrought iron chandelier's and pendants on the market. Wrought iron lighting is a popular choice and has designs to suit many living spaces and settings.
For a general view and to have a browse of the wide range of lights and lighting on today's market please click HERE
As always if you have any questions please do not hesitate to ask me and I will always do my best to help.

michael@hertfordshire-lighting.com