Artemide – A company name that is synonymous both with quality and wonderful Italian design flair.
Artemide Company was founded in 1960 by Ernesto Gismondi who was a qualified Aeronautical Engineer with an eye for modern design. During the early 1960s Gismondi's passion for design and practicality became concentrated into the area of the development and production of lighting equipment. So was born the Artemide Company. Based in Pregnana Milanese on the outskirts of the beautiful city of Milan Artemide is one of the foremost names in quality lighting design.
Since its inception Artemide has been at the cutting edge of lighting design and has produced products that have stood the test of time due to the sheer quality and brilliant design of the original ranges.
Many early Vintage Artemide items can be found at auction houses and specialist outlets where collectors and interior design fans are willing to pay a premium for an early example.
Luckily the Artemide range continues with many of the early classics still in manufacture and with some reborn due to popular demand. Of course Artemide still sits at the summit of fantastic design with some wonderful new designs that are made to get the very best from modern lighting sources.
One of the Artemide classics is the Tolomeo Desk Lamp. Today there is a range of Artemide Tolomeo lamps all based on the original design from the mid-1980s. The Tolomeo Lamp was designed by Michele De Lucchi and Giancarlo Fassina. During the 1980s the lamp quickly became an icon of the Era, however the Tolomeo desk lamp has stood the test of time and unlike many 1980s designs the Artemide Tolomeo Desk Lamps are still very much in fashion. The popularity of these classic desk lamps has led to an expanded range of configurations and sizes.
Let's have a look at the Artemide Tolomeo desk lamp in detail and review it as a working lamp.
The Original Tolomeo Desk Lamp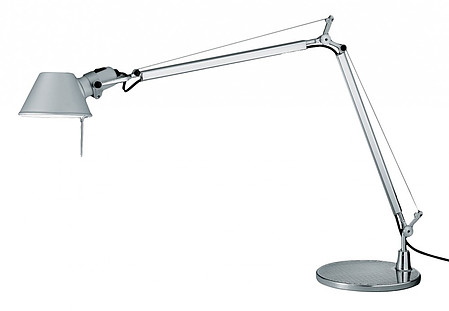 The original Artemide Tolomeo lamp – A design classic that looks as fresh and cool as it did 30 plus years ago.
The Tolomeo desk lamp is an absolute icon of Italian lighting design. The Tolomeo uses high grade aluminium in its construction and is built to a very high standard.
The foundation of the lamp is its base, the Tolomeo lamp has a wide circular base that is made from cast metal and is very heavy, the base has a chromed metal cover and protective feet under to avoid marks to furniture. This seemingly simple base is crucial to the function of the lamp, its quality solid construction allows the use of lightweight materials in the arms and shade and provides the user with one of the most stable desk lamps on the market.
This Artemide desk lamp has two straight polished aluminium profile arm sections. On the outside of the lamp you will see two chromed steel tension cables which are attached to springs hidden inside the aluminium arms. The two tension cables are held in position by quality cast metal brackets which are cast with the Artemide name
At the end of the two aluminium arms sits a small aluminium lampshade reflector head with a matt natural alloy finish, this reflector sits in a U bracket and can swivel through 360° making the lamp highly flexible. Set into the rolled edge of the reflector is a small chromed bent metal handle, at first glance the handle seems nothing special but when you use the lamp you realise that it is a great piece of design, with the reflector being of small stature this handle allows adjustments to be made without touching the reflector. In use, you will find that the small handle allows for really fine and accurate adjustments to be made to your illumination position.
When you use an original Tolomeo you understand why it has always been popular in drawing offices and artwork studios.
The Tolomeo lamp fits into the heavy base by a simple push fit joint that is held in place by a small screw underneath, there are other options on base mounting including a quality G clamp for fitting directly to a desk or work surface.
Conclusion – The Tolomeo lamps are amongst the finest available on the market. Points to note…..
1. The shade is small and with an "incandescent" type bulb you will have to use a smaller sized "golf Ball" bulb.
2. The lamp is very bottom heavy, it is stable and solid, in the unlikely event that you knock your Tolomeo off your desk top you are likely to find some damage to the lighter alloy components.
3. Beware – There are some very poor quality imitation Artemide Tolomeo lamps on the market that originate in China, at first glance these copies look OK and similar in appearance to the original but the quality and finish is poor and the lamps are not worth any consideration.
Please Note – this post may contain affiliate links, if you purchase from one of them we may receive a small commission at no extra cost to you.
Full details and pricing for the Original Tolomeo can be found HERE
---
Artemide now offer a range of other desk and living space lamps that are based the original Tolomeo desk lamp design these lamps are offered in different sizes, different finishes and with varying lighting options which provide you the opportunity to light your space in a uniform and highly stylised design.
Artemide Tolomeo Midi Desk Lamp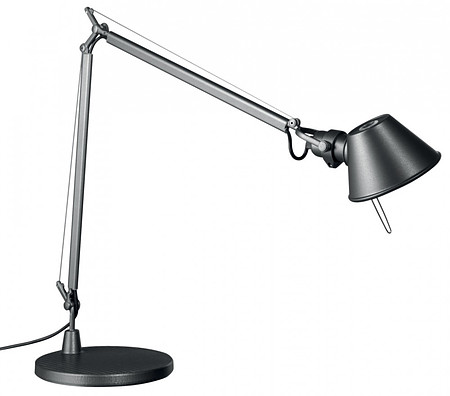 Artemide Tolomeo Midi lamp – shown in a Charcoal Grey finish.
The Tolomeo Midi has a Max arm length of 100 cm
---
Artemide Tolomeo Mini Desk Lamp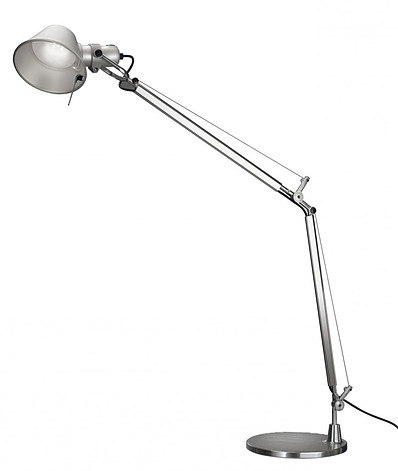 Artemide Tolomeo Mini lamp.
The Tolomeo Mini has a Max arm length of 108 cm
---
Artemide Micro Desk Lamp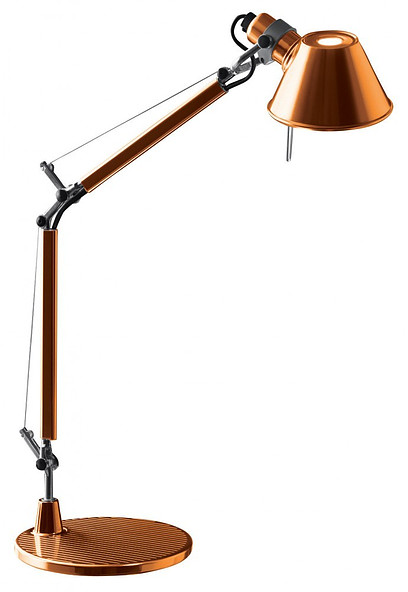 Artemide Tolomeo Micro lamp shown in anodized Orange.
A classic design in a smaller package ideal for a smaller work space.
The Tolomeo Micro has a Max arm length of 73 cm
---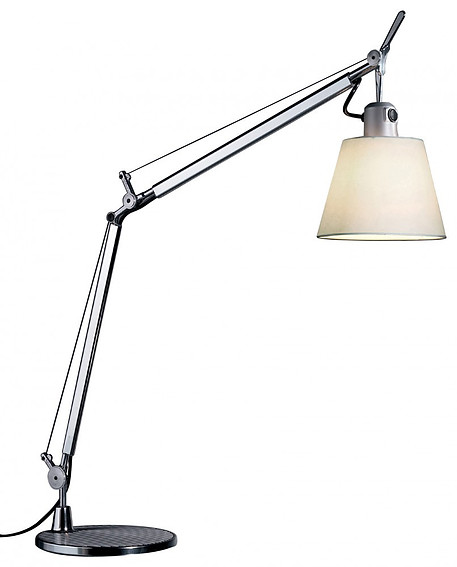 Artemide Tolomeo Basculante lamp – A Hybrid desk or Table lamp version.
The Tolomeo Basculante has a Max arm length of 108 cm
---
If you choose an Artemide Tolomeo desk lamp you will have an Icon of lighting design in your space. Look after your lamp and it will last you a lifetime.
As always if you have any questions please do not hesitate to ask me and I will always do my best to help.
michael@hertfordshire-lighting.com