The story of a Beautiful Antique Chinese Wooden table lamp.
During November 2020 at the very last local auction before the second UK Covid 19 Lockdown, I managed to buy a rather lovely and beautiful Antique Chinese wooden table lamp. The lamp I bought at auction dates from the early 20th Century, it is a tall wooden turned table lamp, the lamp is made in three pieces, a base, a pedestal and a tall ornate column. The lamp was made in China for export to Europe at a time when Europeans desired the touch of the mystical orient in their homes.
This lamp is beautifully turned, the column has fine details and crisp edges and would have been turned by a true craftsman. Despite being well designed and beautifully made the iconic and eye-catching part of the lamp is the decoration and the finish. The background colour of this antique lamp is a dark deep red, the finish is a very thick lacquer type paint. Over the red paint background, the lamp has beautifully hand-painted borders and details. Many of the major details are in a Gold lacquer paint that is applied thickly and provides raised decorations. The subject of the decorations varies from flora and vegetation through to wildlife and human figures, the decorations are hand-painted and are not repeated a sign that confirms that the lamp was hand finished. This lamp had not been used for many years. The finish although beautiful looked dull and unloved. This great looking old Chinese lamp was found complete with its old wiring and fittings which were unsafe and would not meet modern standards.
Before I placed any bids on this lamp I carefully checked it over in terms of its structure. There are some things to look for when buying any Antique wooden lamp base, some old wooden lamps can split over time and often wooden bases can warp though drying after getting damp, some of these issues can be overcome however In this instance the lamp was found to be perfect in terms of its structure and sat straight and true.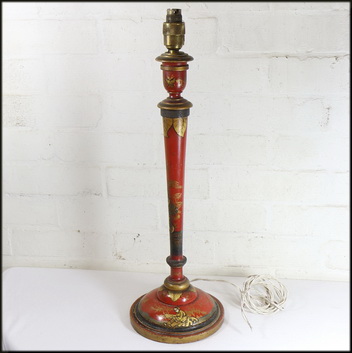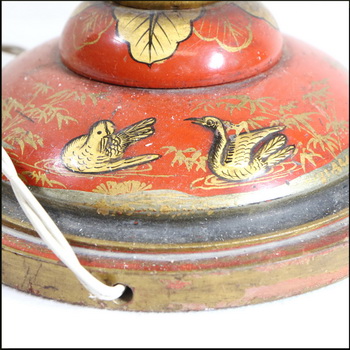 Here is the beautiful Antique Chinese table lamp as found.
---
Stripping the lamp and bringing the finish back to life.
The first thing to do with this lamp was to strip out the old wiring and remove the brass bulb holder, luckily this lamp was made with a ½ inch bulb holder mounting thread which is a size still widely used today, this is a real help when updating an old lamp as modern safe electrical fittings can be simply screwed on and fixed easily. On close inspection, the finish of the lamp was found to be good but was dull and quite dirty. In places, the finish was slightly crazed and had patches of missing paint and lacquer. These imperfections are signs of the lamps great age and use, such marks should never be touched up or repaired as they are part of the history of the lamp and add to the aged appeal of the crafted hand-applied finish.
The lamp column is attached to the base by a large turned threaded section, the column was unscrewed from the base and pedestal and carefully cleaned. The grease and dirt found on the lamp were removed using soft tissue, warm water and gentle household cleaners, after 30 minutes of gentle rubbing the colours of the base started to become brighter and clearer. During this gentle rubbing and cleaning small loose piece of paint came away leaving the lamp with a solid and original base finish.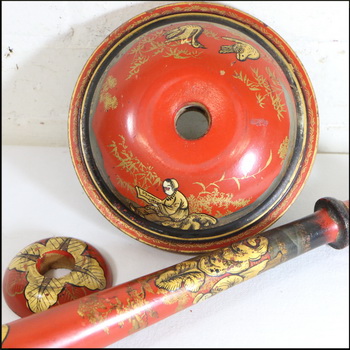 The lamp parts after cleaning. Once cleaned and fully dry the lamp parts were reassembled and made ready for rewiring.
---
Rewiring & Refinishing.
This beautiful piece of Antique wooden lighting will need completely rewiring and will need some modern fittings and components to bring it back to a usable and safe condition.
NOTE – When restoring any old lighting or rewiring any lamp there are several important safety points to remember.
Always follow your local or national standards and only use components that meet your countries regulations.
In the UK metal lighting or metal lighting parts such as the bulb holder used on this lamp need to be earthed (grounded), check the wiring standards in your country.
Always smooth down and fit protective plastic or rubber grommets to areas, such as tubing, where your cable passes.
Always fit a cable-stay, point where the cable is fixed that will stop the wiring being pulled out of your bulb holder in the event of the cable being pulled or the lamp dropped, on lamps like this a large cable-stay can be used under the base as a cable stay.
The wiring route on this lamp was straight forward, at the top a new bulb holder was fitted to the existing ½ Inch thread. The Bulb holder was wired up. UK wiring is Green & Yellow for Earth – Blue for Neutral – Brown for Live. With the bulb holder fitted this old Antique lamp now meets modern safety standards.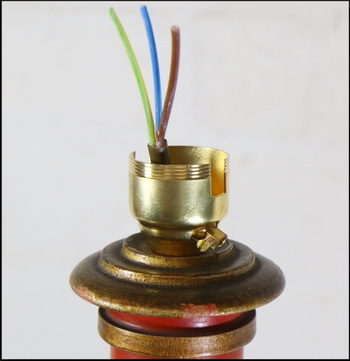 The lamp was tested and was now ready for the final and most satisfying part of its simple restoration. The finish was now clean and free of dirt and grease but the finish needed a final clean, and polish and a coat of protection. On this lamp is used the most wonderful product called Renaissance Micro–Crystalline wax polish. This fine clear wax is a fantastic product that can be used on a wide range of materials, it is used by leading museums to refresh and protect exhibits. The wax is applied with a gentle cloth and rubbed into the lacquered finish, the wax will remove some fine unseen dirt and after polishing off leaves a fine glossy and bright finish. The wax is expensive but a little goes a long way.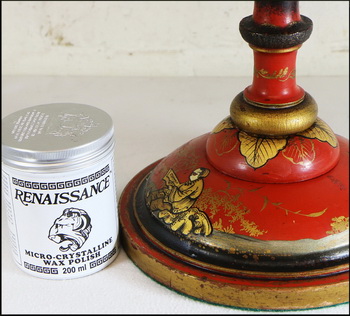 ---
The finished lamp.
With the revived finish complete this antique 20th century lamp is again ready to be used for the original purpose of lighting a space with an oriental twist. The finish is now bright, deep and full of life with the aged marks and signs of life adding greatly to the appeal of this antique lamp.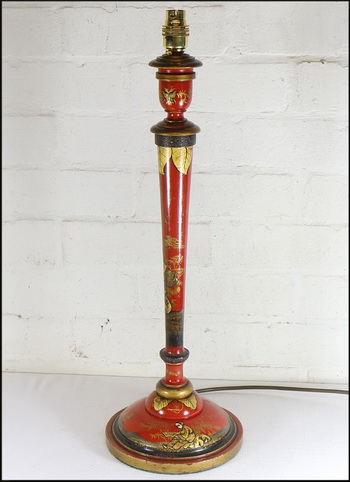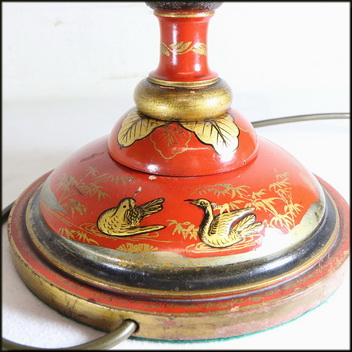 The antique Chinese table lamp refinished.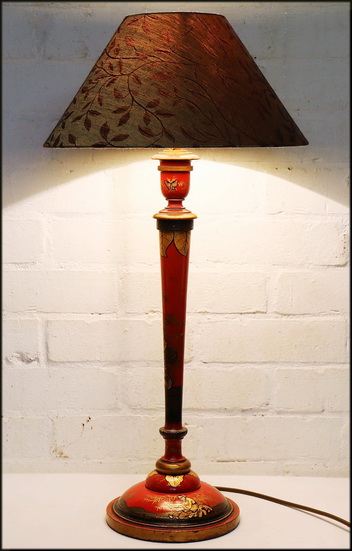 The lamp back in use after decades of being forgotten.
---
Conclusion.
This was a straightforward and relatively short job. I am very happy with the result and delighted to have provided this antique Chinese lamp with new life.
Materials
– Earthed Wiring. Earthed switched Brass bulb holder. Plastic cable tie used as a cable stay. Cleaning materials and Micro-Crystalline wax polish. Green felt for a new base.
Time spent on the lamp – 2 Hours.
I often have many Vintage & Antique lighting items for sale in my eBay shop here – Hertfordshire Lighting and Design
I would love to hear from anyone who has performed a similar refinishing project; it's always great to share ideas with other people.
Even a simple restoration project can bring a great sense of satisfaction and is great fun. I would encourage anyone to bring new life to an old unloved item.
Shop around.
Find an item.
Give it some thought.
Do plenty of research.
Restore.
Antiques are Green.
If you have any questions or need advice on any item of Vintage lighting please contact me and I will do my best to help.
Michael Adkins. michael@hertfordshire-lighting.com
Conclusion