Restoring Antique Victorian Ceiling Light Fixtures.
A Large Antique Cut Glass Ceiling Light Pendant.
I have recently been very lucky to get my hands on a late Victorian British ceiling light. The light was found unwired and with hanging fittings missing. It is a large light may well have been mounted on the ceiling of a large covered porch that formed the entrance of a large Victorian home, today you can still walk around central London residential areas and see similar lights hanging from the porches of these large and impressive brick-built homes. I am going to clean and refurbish this lovely old piece of Antique lighting and bring it back to use using components and wiring that meet modern standards, it is not a difficult project but one that takes a little care and time.
This is a large antique Victorian light fixture measuring 37 Cm High c 20 Cm Wide. This wonderful old piece of lighting is in two parts. The large acorn-shaped lampshade is made from heavy crystal glass, it is a beast of a shade that is covered on the outside with cross-cut multi-line decorations with a linear cut point at the base. At the top of the shade sits a large thick and heavy gallery rim. The original gallery found with the lampshade is an absolute beauty, it is made from wrought Iron with multi scrollwork details that are finely finished and very well made by a craftsman blacksmith. The gallery has three original screws that locate gently onto the glass shade and hold it firmly in place during use. The gallery and lampshade are one of the nicest examples I have seen for some time, despite many signs of use and life the light is well worth the time and money needed to bring it back to use.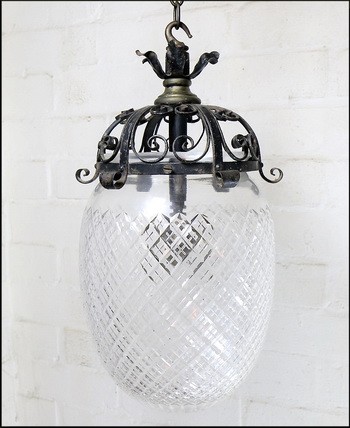 Here is the Antique Acorn ceiling light as found. The light was found without any hanging chain or ceiling rose.
---
Cleaning.
The first thing this Antique light needed was a good clean and polish. The light was taken apart and given its first polish in many decades. The wrought iron gallery had a painted finish that looks like it had been touched up and refreshed over the decades. Despite the patchy look of the gallery, it was clear that with a clean and polish it could be made to look much better and the finish offers great room for improvement with just a clean and a wax polish. The gallery screws were given a spray of oil and the threads cleaned, the gallery itself was gently rubbed down with fine wire wool which removed any loose paint and loose surface corrosion, after 30 minutes with wire wool the gallery already looked much more appealing. The gallery restoration was completed with two coats of dark wax, a good brushing and a polish.  The shade was very dirty with a few spots of paint but was found to be free of any serious damage, it was cleaned in hot soapy water and given a wipe over with modern glass cleaner. After cleaning the shade came to life, considering its great age the large glass lampshade had only minor marks with a few fleabites to the gallery rim and a few small surface scratches which are hidden by the extensive cut glass surface decorations.
The wrought Iron gallery before cleaning.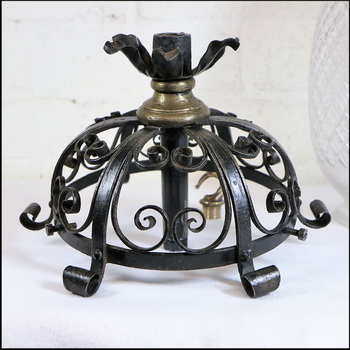 The gallery after a good clean and a couple of coats of wax.
---
Rewiring & cable protection.
This Antique light was found fitted with a short length of two core wiring and a very old unearthed brass bulb holder. The bulb holder fitted appeared to have been replaced a few times over the decades and was fitted with a non-original brass adapter that looks to have been made up by someone many years ago.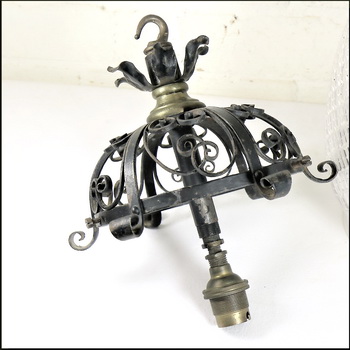 The central bulb holder mounting tube is a large diameter that would have used a long ago redundant size of bulb holder tube with a diameter of around ½ Inch internally. Luckily the original tube had a fine internal thread that was a good fit for a modern brass ½ Inch lighting adapter, this was a really good piece of luck. The original wiring and bulb holder were disposed of and the light was made ready for restoration.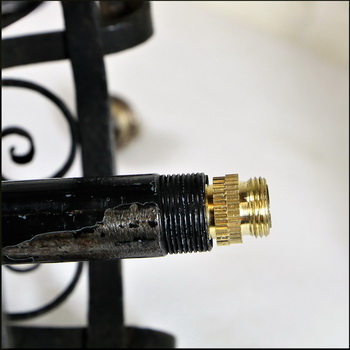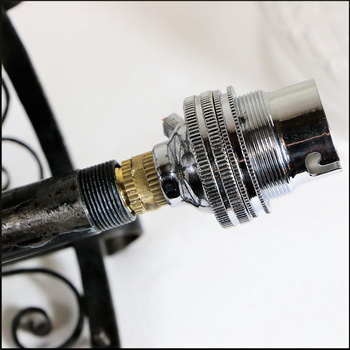 Rewiring was carried out using current UK standard components. I used an earthed chromed brass bulb holder with a UK BC fitting. Wiring is three core, in the UK we use Green and Yellow for earthing (grounding) – Blue is neutral and Brown is live. Wiring was fitted with cable protection at the gallery fitting point. When you rewire a Vintage light fitting you should always take care to provide the cable with protection at entry points, when this light was made the standards were different and wiring protection was not often considered.
---
Reassembly & Testing.
The light was assembled and made ready for testing. I matched this lovely old light with a length of Vintage heavy brass hanging chain and a Vintage large brass hooked ceiling rose, these are non-original Vintage items but they have a finish that is sympathetic with the look and design of the ceiling light and finishes the light well. Once hanging the Antique style of this vintage light started to shine, the acorn shape of the glass lampshade and the ornate iron gallery work together to emphasise the Antique design of the light when you see this large light hanging it is easy to imagine it hanging under a porch outside a large Victorian home or even as a long drop landing light inside such a large home.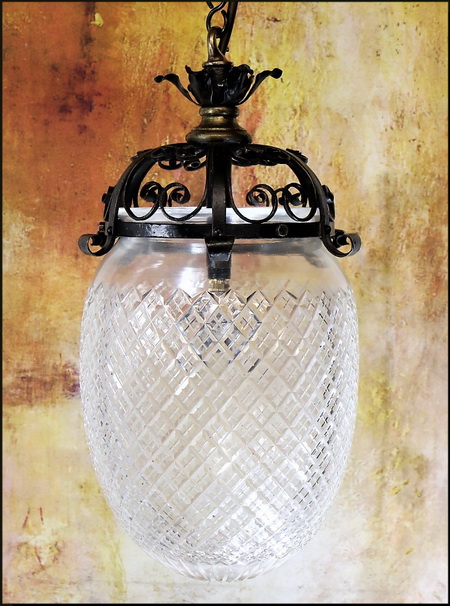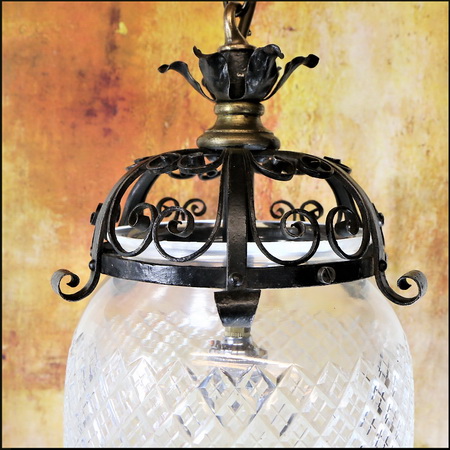 ---
In Use.
In use, the heavy cut glass acorn lampshade provides a wonderful eye-catching lighting effect that is bright with both brightness from the quality glass along with reflective details from the cut decorations and shadowing from the silhouette of the wrought iron gallery.
Antique lighting like this is well worth hunting down, this is a rare Antique light both in form and size, I found this in need of restoration and it made a pleasing and fairly simple project, however, if you don't fancy having a go at restoring a piece of Antique lighting there are many specialists online lighting retailers who will often have similar items. One of the best online resources for vintage and Antique homewares and lighting is Vinterior.
---
Conclusion.
An Antique ceiling light like this will add an authentic period look to any space. With lights like these becoming rarer with each passing year buying one is an investment in a piece of History and indeed will help with the drive for a greener world.
This restoration was fairly straightforward, a large part of the project was a thorough cleaning and polishing of the glass. The result is pleasing and seeing this Antique Victorian ceiling light back in use is satisfying.
Materials – Earthed Wiring. Wiring grommets. Earthed Chromed Brass bulb holder. Wax polish. Wire wool and sundries. A Vintage hooked Brass ceiling rose. A length of Vintage Brass hanging chain.
Time Spent on the lamp – 2 Hours.
I often have several Antique Lighting items for sale in my eBay shop here – Hertfordshire Lighting and Design
I would love to hear from anyone who has performed a similar restoration project; it's always great to share ideas with other people.
If you have any questions or need advice on any item of Vintage or Antique lighting please contact me and I will do my best to help.
Michael Adkins. michael@hertfordshire-lighting.com