Shabby Chic Lighting Ideas with a French twist.
Maisons du Monde
Maisons du Monde is a furniture and home decor company based in France. Here in the UK, the company is not a household name however it offers something unique in home furnishings and decoration. The company & foundation ideas were founded in France. Everything started in Brest more than 20 years ago. Xavier Marie, a creative visionary, decided to form Maisons du Monde as a home decoration and furnishing store inspired by French design mixed with influences from around the world. Maisons du Monde have unique designs that are inspired by the latest trends, which are frequently renewed in a range of styles, so there is something to suit all tastes. Maisons Du Monde products are available in the stores, catalogues and on the web. Maisons du Monde offer truly Unique designs that are innovative in form and material. The process employed by the in-house designers allows Maisons Du Monde to offer beautiful products that are also affordable. Another great plus of Maisons Du Monde is the design idea of products that showcased through inspirational "universes" this allows customers to match the furniture with lighting and other accessories that carry the same design idea, this is a big plus if you are looking to refresh an entire room. This layered approach is available both in the stores, in catalogues and on the web, allowing everyone to create a unique style. Maisons du Monde offer a fine range of Shabby Chic lighting ideas. French in design and made from sustainable materials carefully sourced from around the globe.
Here are some of my favourite shabby chic lighting products from the Maisons du Monde range.
---
Ceiling Pendants.
The Kakie Green Woven Cotton and Mango Wood Pendant.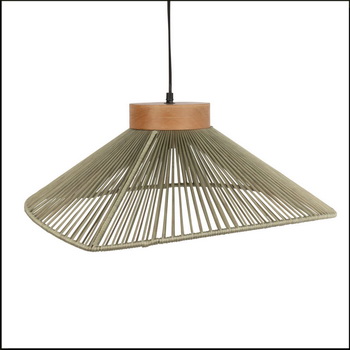 Height 125 Cm x Width 60 Cm x Depth 60 Cm
This simple hand made pendant made from Cotton and Mango wood provides an eye-catching and striking lighting effect in use.
The Dabi Patterned Gold Metal Pendant Light
Height 54.5 Cm x Diameter of 41.5 Cm
The round pressed & reticulated metal lampshade of the Dabi pendant provides beautiful reflective lighting to walls and ceilings.
The Seattle Industrial Chic style Mango Wood and Aged-Effect Metal Pendant
Height 35.5 Cm x Diameter of 62 Cm
The round pressed metal Seattle pendant has an Industrial Chic used and distressed finish and provides a circular spotlighting effect.
The Cherry Copper Glass Pendant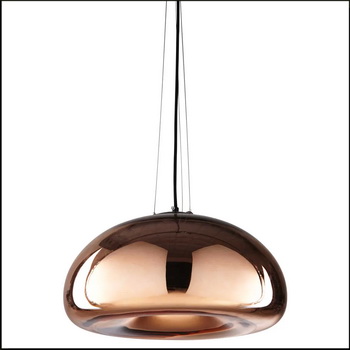 Height 21 Cm x Diameter of 41.5 Cm
The cherry copper glass pendant light will enhance any space with the delicate glass structure and curved design providing a soft, pleasant lighting effect that is warm and cosy.
---
Table lamps.
The Regina Table Lamp made in Paulownia Wood Bleached Lamp with Grey Shade.
Overall Height 72 Cm x Shade diameter of 36 Cm
The simple plain grey shade and the bleached finish of the hardwood combine to allow the natural beauty of the sustainable Asian hardwood to shine and provide the shabby chic look.
The Sylphide Glass Table Lamp with Grey Cotton Shade.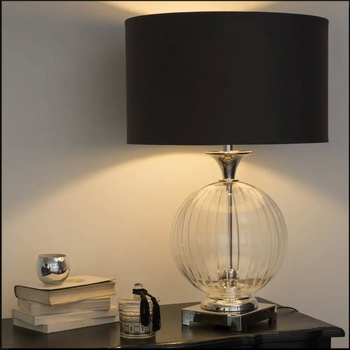 Overall Height 77 Cm x Shade diameter of 50 Cm
The Sylphide Glass Lamp is supplied with A plain Anthracite Grey Cotton Shade. The glass globe base of this lamp will brighten up any space. Its anthracite grey shade will create a subdued ambience allowing the glass base of the lamp to shine.
The Islande Vine Table Lamp with a White fabric lampshade.
Overall Height 89.5 Cm x Shade diameter of 38 Cm
The beautiful natural flowing lines of the irregular and natural vine wood provide the Islande lamp with a calming shabby chic appearance that lends itself to a wide host of spaces and settings.
The Lagune Poplar Table Lamp with Ecru Cotton Lampshade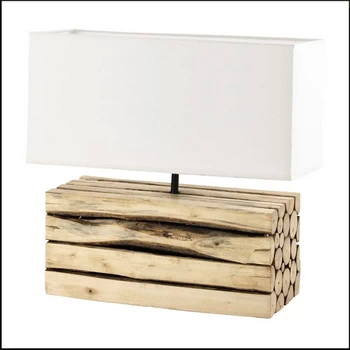 Overall Height 41.5 Cm. Shade dimension 40 Cm x 17 Cm
The Lagune Poplar Lamp with Ecru Cotton Shade will throw out lovely ambient lighting. The lamp is assembled from poplar timber and provides a natural shabby chic feel. Each lamp has fine natural detailing from the nature of the wood.
---
Chandeliers.
The Montmartre Slightly Bleached Chandelier with Grey Shades.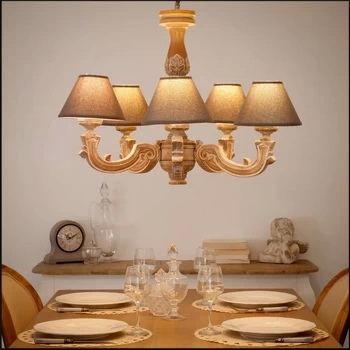 Height 50 Cm x Width 67 Cm x Depth 67 Cm
The Montmartre 5 arm chandelier offers a classic shabby chic slightly bleached finish in a classic chandelier format. The 5 grey cotton shades set off beautifully against the natural grained finish.
The Solange Aged-Effect Grey Carved Mango Wood Ceiling Light.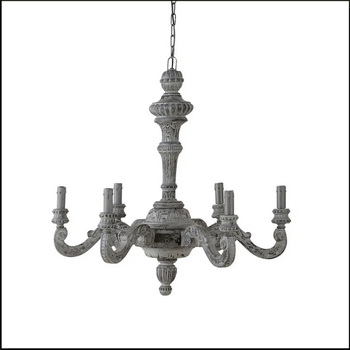 Height 76.5 Cm x Width 76.5 Cm x Depth 76.5 Cm
The Aged-Effect Grey Carved finish of this Mango Wood Ceiling Light provides a combination of both Shabby Chic and Antique effects. This can be used bare bulb or with additional clip-on lampshades to suit your space.
The Montsegur Mango Wood Drop Bead Chandelier.
Height 85 Cm x Width 76 Cm x Depth 66 Cm
The large Montsegur Mango Wood Tasselled Ceiling Light has a shabby chic artisan feel and delicate flowing curves. Small wooden tassels add an elegant feeling of movement. The sustainable mango wood provides natural detailing which adds to the design of the chandelier.
The Pampilles White Metal Drop Bead Chandelier.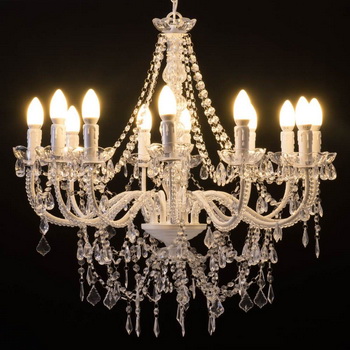 Height 113 Cm x Width 75 Cm x Depth 75 Cm
A Classic chic chandelier. The Pampilles White Metal Droplet Chandelier is a magnificent chandelier based on Antique French lighting but with a modern chic twist. The light has 12 delicately curved arms covered with bead-shaped droplets that have a sparkling crystal look.
---
Conclusion.
This is a small selection of the fine range of chic lighting offered by Maisons du Monde. The Maisons du Monde website has many styles of lighting on offer to fit a wide variety of settings and interiors, Maison Du Monde offers a wonderful selection of lighting, interior design objects and furniture. Browse the Maisons Du Monde Website & you will find some great interior ideas that match lamps and other items with furniture and decorative objects.
You can read my guide to shabby chic table lamps HERE.
As always if you have any questions please do not hesitate to ask.
Michael Adkins. michael@hertfordshire-lighting.com