A Review of The Vaughan Designs Narbonne Chandelier Wall Light
Vaughan Designs.
Vaughan Designs is a leading British name in Interior design objects and fittings. The company was formed in the mid-1980s by a husband and wife team Michael & Lucy Vaughan. The company was founded on a love of arts, antiques and design. Vaughan Designs is renowned for quality designs and beautifully and traditionally crafted items. The showroom for Vaughan London is in Chelsea S.W London. In the showroom and on the Vaughan Lighting website you will be able to see a wonderful range of Furniture, textiles, interior design objects and of course a range of top quality and unique lighting which caters for any interior from modernist to traditional antique.
The Vaughan lighting range is wide-ranging in both design and type, there are beautiful table lamps, floor lamps, ceiling pendants and chandeliers. Among the range of wall lights designed and manufactured by Vaughan is a range of lights inspired by antique designs, some with mirrors, some with toleware style decorations and a wide range of finishes from solid polished brass to painted and antique effect surface finishes.
---
The Vaughan Narbonne Chandelier Wall Light.
Amongst the wall light offerings from Vaughan is a selection of Chandelier-styled wall lights. This is a review of a used Narbonne wall light which is still available on the Vaughan Designs website. The light we are looking at is one of several Narbonne lights recently removed from a high-end apartment refurbishment. The finish of this light is no longer available and the Narbonne is now only available in a much nicer gold gilt finish. The Vaughan website describes the Narbonne wall light as follows – Inspired by an 18th Century antique wall light from the Vaughan archive, this ornate wall light has crystal drops suspended from a delicate frame in a gilt finish.
---
First Impressions.
The general domestic lighting market is awash with chandelier wall lighting. Quality varies greatly across the market with much of the cheaper end being made in China, these cheaper wall lights look OK when viewed on a website or online image but often the reality is very different to the image.
The Narbonne light is at the high end of the market with a manufacturing and design standard that immediately stands out on handling and viewing and certainly matches the images and description shown on the Vaughan website. These are large wall lights Height is 18.75 Inches Width is 13.75 Inches and the depth from the wall is 5.5 Inches.
---
Build Quality.
The Frame of the Narbonne is handmade and carefully built to provide a solid foundation for the lights in use. The leaf motif toleware-styled decorations are made from a heavy gauge of metal meaning the whole metal frame of the lights is structurally sound and built to last.
---
Finish.
The metal frame of this Narbonne light is hand finished, of the Narbonne lights removed from the apartment no two have the same finish, they all match in colour and texture but slight nuances between them highlight the hand-made and hand-finished nature of these quality wall lights.
---
Droplets.
Each Narbonne light has ten large simple almond droplets hanging via a small button drop and quality chandelier suspension wire. The ten droplets are well balanced across the frame of the light, there are enough droplets to provide sparkle but not too many as to take away from the metal elements of the Narbonne light.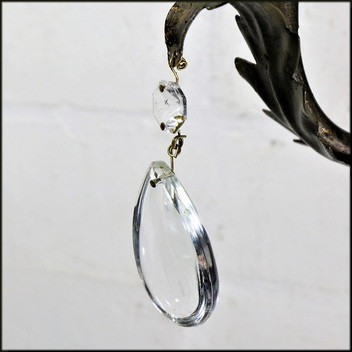 ---
Fittings.
The Narbonne lights are supplied with two small screw-fitting SES lamp holders, each holder sits inside a leaf-detailed faux wax catcher and is covered by a snug-fitting painted card candle cover. The wiring to the lampholders is two-core and earthing is made via a permanent earth point at the back plate.
---
Wall Mounting.
The mounting of these Narbonne lights is made by three mounting holes. Two are located on the round back plate and one is found at the top of the light on a semi-hidden and substantial metal plate.
---
In use.
In my images, you will see the Narbonne mounted on a southeast-facing interior wall with sunlight coming through a window, when the sun catches the wall light there is a distinct shadow from the frame and sparkle from the quality droplets. When lit the lighting effect is subtle yet full of sparkle and depth, with two lamps lit the wall lights almost seem to gain size and presence.  These are wall lights that look good in both natural daylight and when lit up and in use.
---
Conclusion.
When you purchase a Narbonne wall light you are buying a premium product. You are not paying just for the top quality of manufacture but for the quality and uniqueness of the design.
Vaughan lighting has a fine reputation for top-quality design, the quality and varied range of lighting offered by Vaughan varies from the spectacular to the traditional and quite conservative. If something from the Vaughan range of lighting takes your fancy then be assured that as well as investing in a unique design you will also be purchasing an item of lighting that is finely made without compromise.
If you have any questions on this review or have anything to add I would love to hear from you. If you own a piece of Vaughan Lighting and would like to send me an image or two I would be happy to include them on this page.
Thank you.
michael@hertfordshire-lighting.com