Villiers Furniture and Sculptures.
Villiers is a name I have been aware of for some time mainly from press articles. The Villiers name has always been associated with top-end quality furniture and sculptures, indeed if you visit the Villiers website you will immediately be struck with an air of handmade and absolute quality, It is rare for a website to really convey the true nature of a business but the Villiers Furniture site really hits the spot in this regard.
The Villiers client list is hugely impressive with a long stream of the Top hotels and Institutions from around the globe. Villiers as a business was originally founded by the three Villiers brothers and set up to manufacture quality items of furniture without compromise, apparently the make up of the Villiers company has changed over the years but the beautiful designs and quality has not. Villiers offers an amazing range of standard furniture and sculptures along with a clear message offering customised and bespoke options.
---
Villiers Lighting.
I have been dealing with lighting for many decades and I thought I was aware of all types and makers of lighting in the UK and around the world. Much to my delight and surprise I recently received a reminder that there is always something to learn.
After a recent browse on a well-known auction website a large table lamp came into my possession that was quite different in many ways from anything I have ever seen before, the second-hand lamp was heavy, scruffy from use and very well-made. On the bottom of the lamp was a large black business-like label showing that the lamp was made by Villiers Brothers (UK). I believe that this lamp is an Older version of the Villers Constantine table lamp. Once I realised that Villiers produces lighting I visited the website and saw the interesting and eye-catching range of standard lighting produced by Villiers. The current range of Villiers lighting covers wall lights, floor lamps and table lamps.
---
Here is a close look and a review of this remarkable Villiers lamp.

The Early Villiers Constantine Table Lamp
At first sight, the lamp looks very well-made, this impression is reinforced upon picking up the lamp, and it is heavy and sturdy. At first glance the column of this lamp appears to be made from a large heavy piece of formed or cast alloy, however, the column is made from steel with a heavy silver nickel finish. The heavy steel column on its own is remarkable when you consider the forming of the waved edges and indented surfaces. The finish is also quite amazing, with a quick and light polish this second hand lamp glowed. Surface finish is smooth and silky and unlike any steel finish I have ever found on a piece of lighting, the nickel finish polished easily to a beautiful deep shine. A Steel polished column sits upon a wide heavy folded heavy steel base, this older example has a blued finish.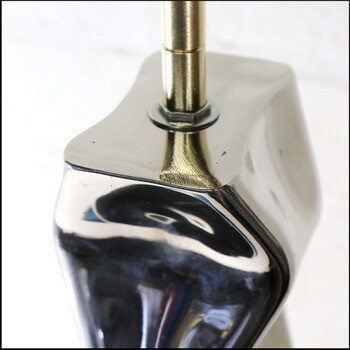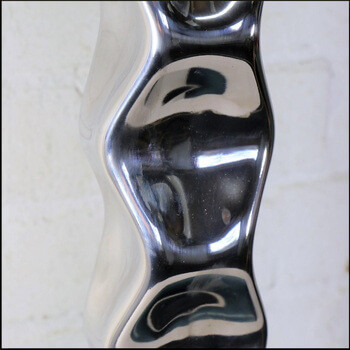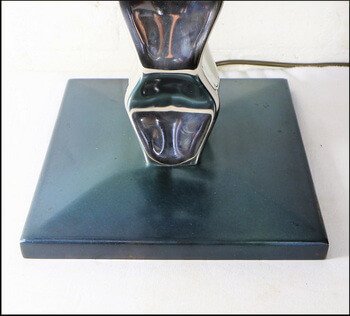 ---
A Table Lamp that is "Engineered" to last a lifetime (or two)
To get an idea of the build quality I removed the base under the lamp, once removed you can see the heavy gauge of steel used for the base, the precise welding and the heavy oversize fixings used to assemble the lamp. The bottom of the lamp is fitted with four round rubber feet. This lamp is not just well-made with fine attention to detail it is properly engineered. It is so well-made that I would say that wiring, fittings and sundries aside this lamp, with normal use, will still be in existence after many lifetimes. The Villiers website states that the Villiers products are built to last more than a lifetime, they are not wrong. Below you can see images that show the build quality of this Villiers table lamp.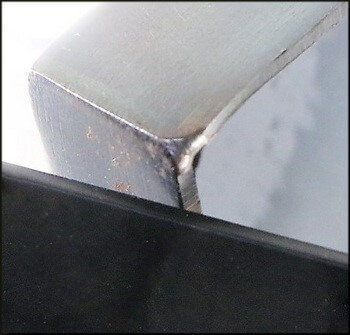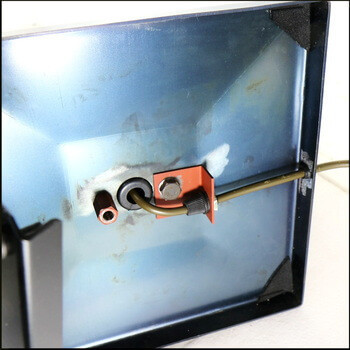 ---
The Villiers lamp in use.
This lamp will easily handle a large shade due to its weight and large wide base. In use, the lamp shines, and the sculptured formed steel column produces fine highlights along with shadowing and detailing, in use the attention given to the surface finish of the column pays dividends in terms of reflective detailing and shadowing, the column has an almost 3D effect.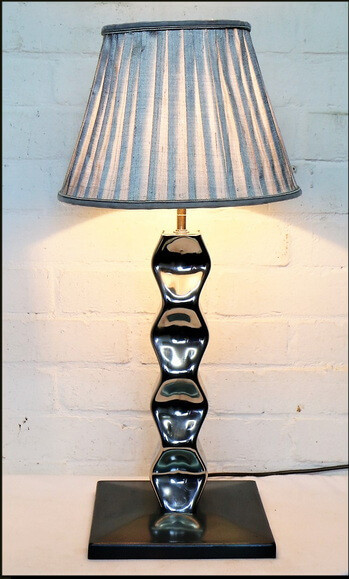 This Constantine lamp – The physical details.
The following are details of this lamp which is an older version. The current range of Villiers lighting has been updated so please see the Villiers lighting page for current dimensions and finishes.
Weight is 3.25 Kg. Overall height is 50 Cm. The base is 23.5 Cm square.
---
Conclusion – Is a Villers Lamp table lamp worth the cost?
This is a remarkable piece of lighting; it is engineered to the highest standards and the finish of the column is amazing. The cost of Villiers products is not just down to the build quality and materials, it is also down to design and uniqueness, I have never come across a lamp quite like this. Having come from an engineering background I appreciate the way these lamps are made and as a design fan, I love the way these lamps look. Are these lamps worth the cost? Yes, when you consider the time, craft and expertise that went into making this lamp then it really becomes clear, Villiers Furniture products are used in high end public and private locations around the world, having had a good look at this lamp I can see why.
You can have a look at the Villiers range, watch the videos and read the story at the Villiers Furniture website which can be found HERE.
Below are links to some more of my Reviews of top-quality British Lighting, I hope you find them of interest.
I hope you have found this post enlightening in regard to the Villiers name and that I may have sparked an interest in top-quality table lamps, these Villiers lamps do add something special to any space. I am always happy to receive any comments. Thank you for reading.