Tom Dixon.
A name linked for many decades with truly unique and top quality items of furniture, lighting and interior design objects.
Tom Dixon is a name strongly associated with wonderful items of designer lighting. Tom Dixon lighting is beautifully made and of the very highest quality with a well-deserved reputation for combing outstanding design with quality manufacture. If you have a look at the Tom Dixon range you may be surprised to find a fine range of designer furniture which combines the same quality of design and manufacture seen in the lighting range.
View the Tom Dixon range of furniture and you see a range that is unique in design and concept. The range uses various materials with the choice of material being a crucial element in the design of each piece. The finish of the materials used in Tom Dixon furniture plays a huge part in the impact of the finished table, chair or desk. All Tom Dixon furniture looks balanced, unique and somehow just correct. Touch any piece from the range and you will be struck by the quality of construction and material, you can view some of the Tom Dixon range at the central North and West London showrooms or of course you can view the entire range at the Tom Dixon website where you can also view some commercial projects where the range has been used.
Please Note – this post may contain affiliate links, if you purchase from one of them we may receive a small commission at no extra cost to you.
You can View the Tom Dixon official Website HERE
---
A selection of some of my Favourite Tom Dixon Furniture.
The PYLON range of tables & Chairs.
The Pylon range is constructed from an angular frame made from welded steel rod. The welded frame is married to a smoked glass top providing a modernist Industrial look. The range includes a Dining Table, a coffee table and a small round table as well as a futuristic Pylon chair. Created on a self-propelled mission to design the world's lightest metal chair, Pylon was made in a small series in Dixon's metal workshop in the early '90s. The latticework of 3mm diameter steel rod is triangulated for maximum strength – an exercise in pure unadorned structure. The Pylon collection is light, strong and a celebration of the triangle's simple symmetrical shape
The Pylon small table 65 Cm in Diameter x 70 Cm High.
---
The Spun Range of Tables and Accessories.
The Spun Table comprises a circular tabletop and oversized curved rim making the table practical as well as stylish. It can be complemented with the Spun Champagne Bucket and Tall Table. Space Age, Art Deco or Pop many potential influences can be read into these pieces of ultra‑expressive occasional furniture. Made from solid brass sheets that are hand‑spun, welded and polished to a mirror finish. Also available as a Pendant and Surface Light.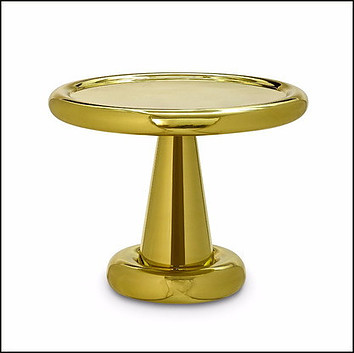 The SPUN short Brass table 54 Cm in Diameter x 45 Cm High.
---
The SLAB range of desks, tables and chairs.
I love this Slab desk. Having gone to school in the 1970s I was used to sitting at old wooden desks that had been in service for decades, the slab is Inspired by these archetypical Victorian school desks. This stylish contemporary work station is equally comfortable as a hotel room desk or a dressing table. Made from solid Oak construction, with softly rounded edges and understated proportions, the traditional inkwell transformed into a cable management hole, and a deeply machined groove for pens and accessories.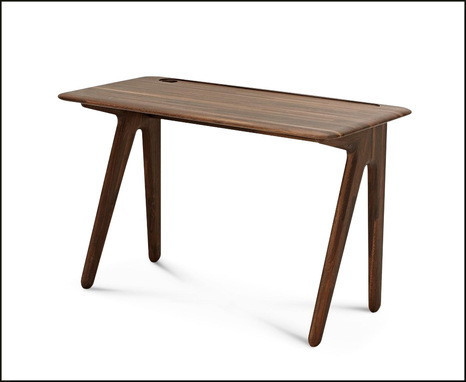 The SLAB Individual Desk 120 Cm Wide x 60 Cm Deep x 75 Cm High. Available in a range of finishes. 
---
The SWIRL range of tables & Accessories.
This Swirl table is a series of geometric forms stacked upon one another to create multidimensional, functional sculptures, one of a family of tables, each with their distinct silhouette, colouration and personality. Also available as complimentary candleholders, bookends and vases. This Swirl table is manufactured from formed Marble Powder.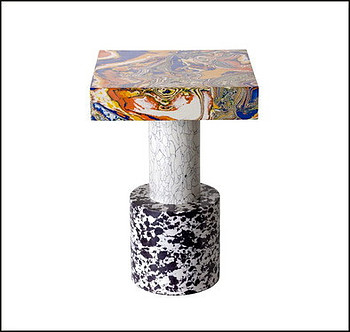 The Swirl Medium Table. 30 Cm Square x 44 Cm High.
---
The Wingback Sofa Range.
A series of 17th century English archetypes re‑thought and updated for the 21st century. Fully upholstered functional sculptures. These stunning wingback sofas are British classics re-mastered. As well as variously sized sofas the collection includes a chair, a dining chair and an ottoman. All are available in a wide range of colours and Kvadrat fabrics with chair legs in solid natural or black oak and copper-plated steel. The Wingback design is also available in a range of matching Armchairs allowing a customised suite to be made.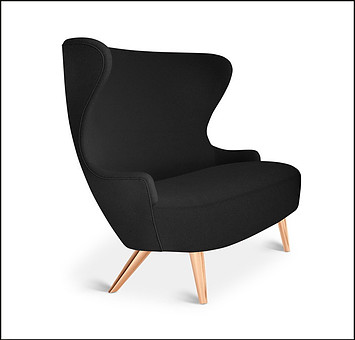 The Micro Wingback sofa is shown with Copper legs 132 Cm Wide x 75 Cm Deep x 100 Cm High.
---
The Screw Stool.
An Iconic Industrial stool. Inspired by the materials and processes of the Industrial Revolution, Screw is made from a cast iron with a tripod base. The steel thread allows for multiple heights by simply spinning the top. Suitable for outdoor and indoor use.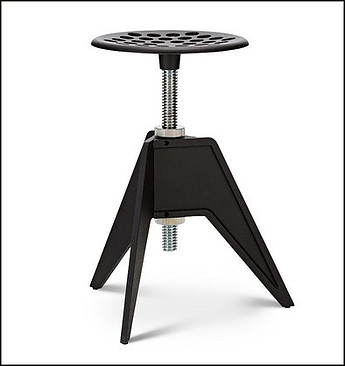 The Screw Stool 46 Cm Diameter x 63 Cm High.
---
The Mass Console Brass Table.
The Mass Console table is made of a mango wood composite structure which provides great solidity, weight and strength. Each piece is hand finished with a heavy brass cladding. This handmade process offers an extremely attractive finish that suits Mass's humble and minimal form. Available as a Table, Book Stand and Coat Stand. Huge chunks of heavyweight, metallic, minimalism. Mass is confident, over scaled furniture with real presence and instantly recognisable expressive minimalism. As it takes on the marks of time, Mass will develop a natural patina across its surface, meaning each piece will age like a prized bronze statue.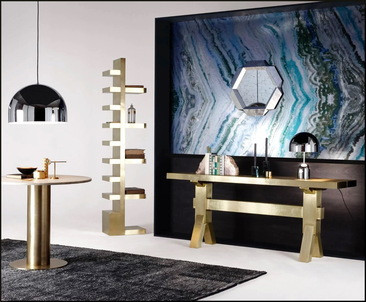 Mass console table 180 Cm Deep x 50 Cm Wide x 76 Cm High.
---
The Veteran Range of Tom Dixon Furniture.
First launched on Milan's international stage many moons ago, Tom Dixon brings the heroes of yesterday back home. Re-engineered, recoloured and reinvigorated for a relaunch, the graphic, pop-art silhouettes of these Iconic pieces pops from every angle. These are the Tom Dixon collector's pieces of tomorrow with each piece being an investment in quality design.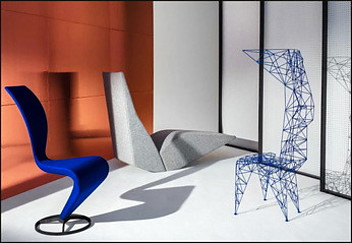 The iconic Veteran Range of Tom Dixon Furniture.
---
Accessories.
The Tom Dixon website is full of iconic and wonderful items of furniture, the website also has a world-famous range of designer lighting and interior design accessories. The effect of any piece of Tom Dixon furniture can be enhanced by adding matching accessories and interior design objects from the wider Tom Dixon range, be sure to browse the website fully to appreciate what's on offer from the Tom Dixon design brand. If you visit the website you will also be able to see some interesting case studies on projects such as restaurants, hotels and even churches that have used the Tom Dixon range.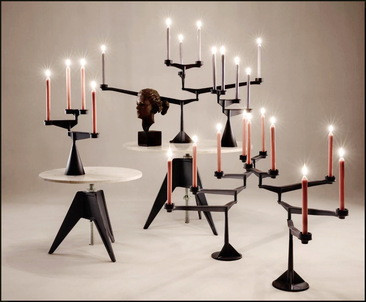 The Tom Dixon Spin Candelabra Range.
---
Conclusion.
A piece of Tom Dixon furniture is an investment in quality both of the product design and manufacturing process. Tom Dixon furniture has great appeal. View the range and look at the different designs available, sure they may not all suit your taste but if you are looking here I am sure something will strike a cord at the Tom Dixon Website Furniture Section
Read HERE for my review of the World Famous Tom Dixon Beat Range of Pendant lighting.
Read HERE for my review of the Tom Dixon Table Lamp range.
As always if you have any questions please do not hesitate to ask.
Michael Adkins. michael@hertfordshire-lighting.com
---